Updated: September 14, 2016
For more information please call 612.940.2632.
Sign up now for our monthly newsletter and receive an added bonus of special discounts on quality used injection molding machinery!
Used Plastic Injection Molding Machine of the Month
This late model used injection molding machine is in excellant condition.





.

Used Plastic Injection Molding Machinery Directory

Electric Plastic Injection Machinery
2000 Toyo Si-110
2000 Toyo Si-150
2000 Toyo Si-200



20 thru 190 Ton Machinery

2000 Nissei PS-60
2000 Toyo Si-110
2000 Toyo Si-150


Multi-Two Shot Molding Machines

1998 Auburg 420M-1000-250/250
2001 Arburg 520C-2000-675/350




200 thru 399 Ton Used Machinery
1998 Toyo TM-200H



400 Ton Machinery and Up

Vertical/Vertical Molding Machines

1998: Engel ES330-125
We Buy Used Injection Molding Machines!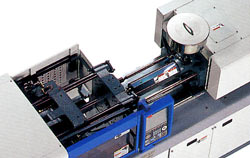 Need a quality used injection molding machine, let us help you find just what you are looking for. Have a machine in mind but cannot find it, let us help!
We are now adding a "Wanted" section, allowing you to advertise your requirements, as well as your equipment for sale. Email us today and we will post the exact machine requirements you are looking for.